Written by Mary ᎺᎵ Rae, Art by Miriam Rae-Silver
1. Introduction
In Module One, we saw how Cherokees worked together to learn the
syllabary in the early 1800s. They demonstrated the idea of ᎦᏚᎩ gadugi,
which can be defined as working together towards a common goal.
In The Shadow of Sequoyah, Anna Gritts Kilpatrick writes of Oklahoma Cherokees:
"…the gadugi is composed of unpaid workers called together for a specific task in the interests of a private charity or community welfare."
Kilpatrick, Anna Gritts. The Shadow of Sequoyah.
Univ. of Oklahoma Press, 1965, p. 75.
Gadugi is so much a part of Cherokee life that the word for 'state'
is very similar, ᏍᎦᏚᎩ sgadugi.
"The word for state draws upon the word ᎦᏚᎩ/gadugi, which refers to organized teams of people working collectively for a commonly shared goal…While the English word state describes a political organization that grew from regionalism, the Cherokee word more closely matches a historical tradition of collective action."
Cushman, Ellen. Cherokee Syllabary: Writing the People's Perseverance.
Univ Of Oklahoma Press, 2013, p.197.
Gadugi can take many forms. Think about how the following examples demonstrate gadugi.
1. Dollie Duncan letters were sent from a young man in prison,
Walter Duncan, to his mother. Apparently, he was learning to write in syllabary,
but had the help friends in the meantime. At the end of the second letter
we read that Alsdawadi has been writing on Walter Duncan's behalf :
ᎠᎵᏍᏓᏩᏗ          ᏃᏈᏏ           ᎪᏪᎸᎦ
alsdawadi       nokwsi       gowelvga
Alsdawadi       Nokwsi       I wrote this
'I wrote this. A-li-s-da-wa-di No-k-si'
Alsdawadi has been writing on Walter Duncan's behalf.
Even in prison, Cherokees practiced gadugi, helping one another
to accomplish a goal, in this case, to write a letter.
2. The ECHOTA FUNERAL NOTICES are an especially poignant example of gadugi.
In "Funeral Notice for Vwodi Aditasgi," we read:
ᏂᎦᏗᏃ ᎡᏍᎦᏂ ᎢᏥᎷᎩ ᎠᎴ ᎢᏣᏍᎪᎵ ᎦᏙᎯ ᎢᎦᎵᎢ
nigadihno esgahni ijiluji/itsilutsi ale ijasgoli/itsasgoli gadohi
'All local residents come and dig the grave, Friends, come.'
In "Funeral Notice for Gvsgalisgi Wahya," we read:
ᎠᎴ ᏧᎾᏁᎶᏗ ᎢᏣᏓᏢᎬᎢ ᏗᏥᎸᏫᏍᏓᏁᎢ ᏗᏓᏂᏐᏗᎯ ᎠᏍᎪᏍᏗ ᏂᎦᎵᏍᏗᏗ
ale junanelhdi/tsunanelhdi ijadatlvgvi/itsadatlvgvu dijilvhwista'nehi/ditsilvhwista'nehi didanisodihi asgosdi nigalisdidi
'It becomes necessary for you workers in the Sunday School and Church organizations to dig a grave.'
3. In the Governance Documents, we find the following in "Cherokee Republican Constitution":
ᏂᎪᎯᎸᎢ ᎠᎵᏂᎬᏁᏗᏱ ᎠᏍᏕᎸᏗᎢ ᎣᎦᎴᎰᎹ ᎠᏁᎲ ᎠᏂᏴᏫᏯ
nigohilv alinigvnediyi asdelvdi'i ogalehoma anehv aniyvwiya
'Further, we shall strive to better serve and help our fellow Oklahoma Indians'
ᎭᏓᏅᏛᎵ
hadan(v)tvli
Think!

How do the above excerpts illustrate the concept of gadugi?

Think about what they have in common, and what sets them apart from one another. Keeping those things in mind, write your own extended definition of gadugi below:
2. Dictionary Study
ᏘᎪᎵᏯ tigoliya Read!

For the next section you will need to use Durbin Feeling's Dictionary.
Feeling, Durbin. Cherokee-English Dictionary. Cherokee Nation of Oklahoma, 1975.
Look up gadugi in the dictionary and write the definition below:
ᎦᏚᎩ gadugi

Read the sample sentence below for gadugi and write down any words you recognize
using both syllabary and phonetics.
ᎪᎯᎩ ᏥᎨᏒ, ᎦᏚᎩ ᏓᎾᎵᏍᏕᎵᏍᎬ ᎠᏂᏣᎳᎩ.
gohigi jigesv/tsigesv, gadugi danalsdelisgv Anijalagi/Anitsalagi.
'Long ago, Cherokees helped each other through cooperative labor.'
3. Syllabary Study
We have seen that Cherokee words can have an intrusive h, an air sound
that is not represented by a syllabary character. Studying speakers when possible,
and listening to recordings can help students understand where an intrusive h is used.
Most students know also that speakers often drop the final vowel sounds when speaking
at a natural, conversational speed. In addition, vowel sounds may be dropped
within a word. For example, in the word ᎤᏅᏥ unvtsi 'snow,' the –v– sound is devoiced,
and the word sounds like unji/untsi. There is nothing to indicate a dropped or devoiced vowel,
so, again, it is important to listen to speakers.
In the GOVERNANCE DOCUMENTS: Keetoowah Society Notes, read the first line
under the Pronunciation tab, and write the following, in syllabary, phonetic and English:
1. A word with a dropped vowel



2. A word with an intrusive h



Syllabary charts do not often show all the possible sounds for syllabary characters.
While it is not possible to indicate dropped vowels, intrusive h can be shown.
In the chart below, note the syllabary characters with the dropped vowel
and intrusive h that you found in the Keetoowah Society Notes.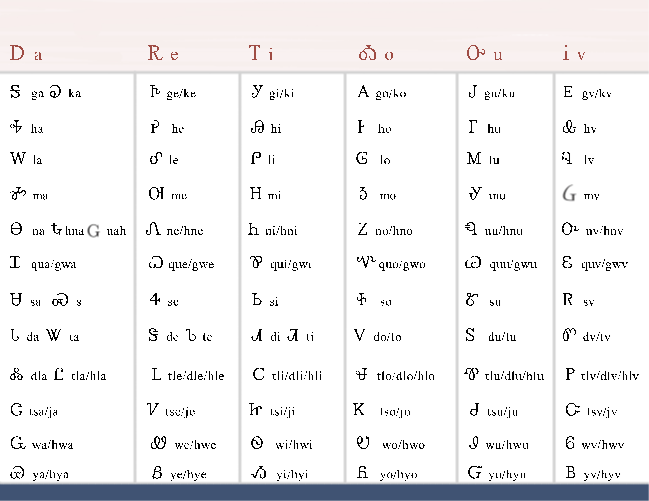 4. Reading
| | | |
| --- | --- | --- |
| | ᏘᎪᎵᏯ tigoliya Read! | Read the following excerpts and write down the phonetic word that matches the word(s) already underlined. |
ᏪᎩ ᎤᏬᏪᎳᏅ ᎾᏍᏋ
wegi uwohwelanv nasgwu
'I also received a letter written by Wegi'

ᏚᏙᎥ ᎪᏪᎵ
dudo'v gohweli
'her name is written on it'

ᏩᏙ ᎨᏳᏁᎦ ᎯᎠ ᎦᏲᎵ ᏥᏦᏣᎳᏁ ᎠᏴ ᎠᎩᎪᎵᏰᏗ ᏩᏙ ᎣᏂᏃ ᏥᎬᏲᏪᎳᏁᎸᎢ
wado geyunega hi'a gayoli jijojalane/tsitsotsalane ayv agigoliyedi wado onihno jigvyowelanelv'i/tsigvyowelanely'i
'Thank you, Ge-yu-ne-ga, for the small note you inserted, for me to read. Thank you. I wrote to you afterwards.'

ᎦᏥᏲᏪᎳᏏ ᎨᏈᎵ ᏓᎦᏏ
gajiyowelasi/gatsiyowelasi gegwili daksi
'I, Gegwili Daksi, just wrote this for his family.'

ᎾᏍᎩᏊᏃ ᏂᎦᎠ ᎪᏪᎸᎦ ᎯᎠ ᎨᏒᎢ
nasgigwuhno niga'a gowlevga hi'a gesv'i
'That is all I wrote about this.'

ᎾᏍᎩᏊᏃ ᏂᎦᎠ ᎯᎠ ᏥᎪᏪᎳ
nasgigwuhno niga'a hi'a jigowela/tsigowela
'This is all that is written'

ᎯᎠ ᏥᎪᏪᎳ ᏌKᏊᎢ ᎠᏍᎦᏯ ᎤᏃᎮᎸᎯ
hi'a jigohwela/tsigohwela sagwui asgaya uhnohehlvhi
'that which is written and told by one man'

5. Writing
ᏙᏪᎸᎦ tohwelvga Write!

Pick four words about

writing

from the words you underlined above. Write them below using phonetics.
1.
2.
3.
4.
Look carefully at the words and circle what they all have in common. What does this
tell you about how the words mean what they do? Write your thoughts in the space below:
6. WILLIE JUMPER MANUSCRIPTS: Story of the Little People
ᏍᎩᏰᏲᏗᎢ                   ᎢᏨᏔᏲᏎᎭ
sgiyeyohdi'i                 ijvtayoseha/itsvtayoseha
for you to teach us     we are asking you
ᎦᎵᏉᎩ    ᎢᏯᏂᎢ    ᏧᎾᏛᏐᏅᎯ     ᎤᏂᏂᏱᏘᎢ     ᎤᎾᏚᎸᎮᎢ
galhgwogi/galhquogi  iyani'i  junatvsohnvhi/tsunatsvhnvhi  uniyhti'i    unadulvhe'i
seven     of them the elders     (for them) to catch     they wanted
ᎤᏙᎯᏳᎢ       ᎨᎨᏲᏅᏁᎢ
udohiyu'i     gegeyonvne'i
truly              they were taught (repeatedly)
ᎾᏊ                  ᏚᏄᎪᏔᏁᎢ
nagwu              dunuktane'i
at this point     they decided (on)
ᎭᏓᏅᏛᎵ
hadan(v)tvli
Think!

Copy the above sentences and put them in order to show how the gadugi action of the story was carried out.
1.
2.
3.
4.
7. Word Study
The following words appear in:
Feeling, Durbin. Cherokee-English Dictionary. Cherokee Nation of Oklahoma, 1975.
Which of these words do you think is related to the word for 'elders'?
| | | |
| --- | --- | --- |
| ᎠᏛᏓᏍᏗᎭ | atvdasdiha | 'he's listening to him' |
| ᎠᏛᏍᎦ | atvsga | 'he's, it's growing' |
| ᏧᎾᎵᏍᏓᏴᏗᎢ | junalsdayhdi/tsunalsdayhdi | 'cafe,' 'restaurant' |
| ᎠᏛᎩᎠ | atvgia | 'he hears him, it' |
| ᎤᎾᏓᏕᏒᏓ | unadadesvda | 'chain' |
KEY
Section 3
1. ᏚᏂᏅᏗ
dunindi
'October'
2. ᎠᏂ
ahni
'here'
Section 6, Part 2
1.ᎦᎵᏉᎩ ᎢᏯᏂᎢ ᏧᎾᏛᏐᏅᎯ ᎤᏂᏂᏱᏘᎢ ᎤᎾᏚᎸᎮᎢ
galhgwogi/galhquogi iyani'i junatvsohnvhi/tsunatsvsohnvhi uniyhti'i unadulvhe'i
'seven of them the elders (for them) to catch they wanted'
2. ᎾᏊ ᏚᏄᎪᏔᏁᎢ
nagwu dunuktane'i
'at this point they decided (on)'
3. ᏍᎩᏰᏲᏗᎢ ᎢᏨᏔᏲᏎᎭ
sgiyeyohdi'i ijvtayoseha/itsvtayoseha
'for you to teach us we are asking you'
4. ᎤᏙᎯᏳᎢ ᎨᎨᏲᏅᏁᎢ
udohiyu'i gegeyonvne'i
'truly they were taught (repeatedly)'
Section 7
| | | |
| --- | --- | --- |
| ᎠᏛᏍᎦ | atvsga | 'he's, it's growing' |